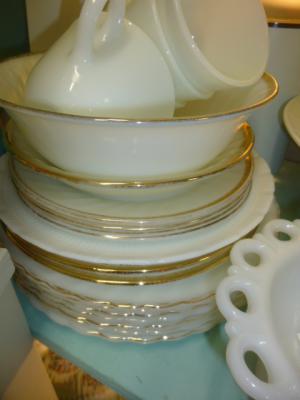 ReVamped Vintage by Sophie's Cottage
7027 SE Milwaukie Avenue
Portland, OR 97214
(503) 239-0346
If you love old and worn, weathered and torn, you'll love ReVamped Vintage by Sophie's Cottage.
Designer, AJ Finsand, curates unique and ordinary vintage items; combines and upcycles them to create one of a kind home decor and gift items. Her signature style is a well loved, cozy and comfortable look with a flair for practicality.
AJ artfully pairs up old with new, and always has lots of great little gift items at really reasonable prices.
"Good stuff. GREAT prices!!" is AJ's motto. Visit her space at Stars and you'll agree!
COMING IN APRIL 2018: AJ IS EXPANDING HER OFFERINGS AT STARS BY ADDING "SOPHIE'S ANNEX." You won't have to travel far in the mall to find the newly added Sophie's Annex, as it's literally 'two steps away' from her original booth; along the back wall. This additional space will feature an entirely different vignette every month. New items are added weekly. For a 'behind the scenes' look visit her blog: http://trash2treasure.wordpress.com/ where you'll see many of the treasures in their 'before' state, and the transformation process.